Bed bugs are an expensive problem for Nashville hotel owners, for both the financial impact a bed bug infestation has on the hotel and the impact to the hotel's reputation. A single bed bug incident in your hotel can create long-term effects on your bottom line and a public relations nightmare that can be difficult to overcome. Here's what you need to know about bed bug prevention and infestation elimination from Thermalrid, the experts of bed bug control in the Nashville area.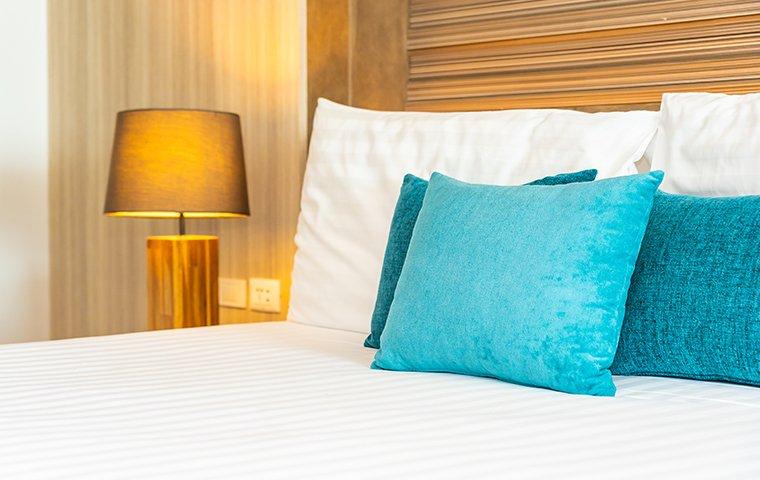 Hotels are Prime Real Estate for Bed Bugs
Bed bugs are particularly challenging for hotel owners due to the constant flow of people and personal items. Bed bugs are tiny and can travel undetected in or on luggage and clothing. As people set their suitcase on the floor and climb into bed, if they brought along even a single female bed bug, within days the hotel can have a major infestation. The close proximity of rooms in a hotel also makes a bed bug infestation problematic, as the bugs can easily navigate from one room to another and spread throughout the entire hotel.
Bed Bugs Impact to Hotels
A 2017 research report by a national pest control organization calculated the average cost of a bed bug incident for hotels at $6,383. The expenses include professional pest control services, loss of revenue from rooms closed during the treatment process, and compensation to guests receiving bed bug bites. If you add to that cost the negative publicity from word-of-mouth reports and guests posting on social media, the costs of bed bugs in your hotel cannot be understated. Some guests sue hotels after experiencing bed bug bites, which can skyrocket your costs even more. While bed bugs are not considered dangerous by the Center of Disease Control and Prevention, people have different reactions to bed bug bites that range from small bite marks and itchy red welts to severe allergic reactions, which require medical attention.
Bed Bug Prevention in Hotels
It is nearly impossible to prevent bed bugs in a hotel setting, but implementing the following practices in your hotel operations can lower your risks and increase the likelihood of staff catching a bed bug infestation at an early stage, when elimination of the infestation is easier.
Remove upholstered headboards

Remove box spring dust ruffles

Use active mattress liners

Use wooden blinds rather than pleated, fabric curtains

Keep wall decorations on walls furthest away from the bed

Provide luggage racks for guests

Educate hotel staff to recognize and report bed bug signs

Educate hotel staff on proper handling of guest bed bug complaints
Get Professional Bed Bug Control
With the high risk of bed bugs in hotels, do-it-yourself methods are completely ineffective in preventing or removing a bed bug infestation. Hotel bed bug infestations require a treatment strategy that involves prevention, monitoring, and elimination, all services offered by Thermalrid in Nashville. Partner with Thermalrid and stop welcoming bed bugs into your hotel.